Saffron is a spice that has been traditionally used in many cultures for medicinal purposes, including during pregnancy.
However, there is limited scientific evidence on the safety of consuming saffron during pregnancy, and it is generally recommended to use caution.
High doses of saffron have been shown to have uterine stimulant effects, which could potentially lead to miscarriage or preterm labor.
Additionally, some studies have suggested that saffron may increase the risk of bleeding, particularly when taken in conjunction with blood-thinning medications.
It is important for pregnant women to consult with their healthcare provider before consuming saffron or any other herbal remedies.
Among these plants, saffron is considered one of the most beneficial. It is surprising to learn that this rare and pricey plant is precious, not just in terms of flavor but also in terms of the possible health advantages it may provide.
However, one thing that should be mentioned is that, similar to the intake of many other plants; it is vital to exercise caution while consuming saffron.
This is particularly important for pregnant women, who should exercise more care and attention when consuming food or beverage.
To begin, ingesting foods and beverages with a saffron taste not only does not pose a health risk but also boosts the body's natural antioxidant defenses.
On the other hand, it is best to avoid consuming significant quantities of saffron and supplements containing spice since it is suspected of contributing to miscarriages and preterm births.
Since this question—Is saffron good for pregnancy—is one of the most pressing concerns and is inextricably linked to the continuation of human existence, we would like to go more into the matter. If you are also in this delicate time of your life, we would also want to know whether or not you are now in this state.
Join us on this excursion about "Is saffron good for pregnancy?" if you concern.
Let's begin with taking a cursory glance at the meaning of the word "saffron" to see where we stand:
Saffron (full definition)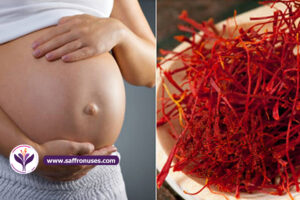 Saffron comes from a plant that is also known as Crocus sativus. The majority of saffron is grown in Iran, but it is also grown in other countries, including India, Afghanistan, Morocco, and Greece.
In addition to its many other health advantages, saffron is well-known for its antioxidant characteristics that it has as well as for the high cost that it commands.
As a result of the time-consuming and labor-intensive method required for its cultivation and harvesting, saffron is often regarded as the costliest spice in the world.
Check out our article on the Drinking Saffron Milk Fairer Skin
Okay, now that you've learned about saffron and better understand this plant, let's move on to the topic and discuss "is saffron good for pregnancy?"
Is saffron good for pregnancy?
When you first start, remember that your culture has a far more significant influence on your consumption than you probably realize.
One of these cultures is the usage of saffron in cuisine, which is regarded as an authentic tradition in several nations. This practice may be found in a variety of different civilizations.
Therefore, if you are entrenched in a culture where saffron is a popular or common spice, you may have already heard recommendations about the pros and cons of saffron for pregnancy.
On the other hand, it is essential to understand the benefits and risks of saffron for pregnancy.
In terms of "Is saffron good for pregnancy?" some societies believe it is safe to do so after the first trimester of a fetus's development.
This is something that we need to take into consideration. Although many cultures maintain particular customs and beliefs regarding eating food during pregnancy and even nursing, this does not negate many of these traditions and ideas.
For instance, the topic of having a short temper vs. a long one is receiving a lot of attention in today's society.
In addition, since pregnancy is seen as a "hot" condition, it is typically recommended that pregnant women refrain from eating "hot" foods until after giving birth. These items are pineapple, papaya, bananas, eggs, and beef.
They believe that consumption of certain foods might lead to unwanted pregnancies, complications during delivery, high-risk pregnancy and even deformities in the growth of fetus.
As a result of studying "Is saffron good for pregnancy?" section, we are now aware that taking saffron could have both positive and negative effects.
Every pregnant woman should remember the essential thing to consider is the need to consult with her physician before consuming anything.
To proceed, let us become acquainted with the pros and cons of saffron consumption during pregnancy, which is as follows:
Pros & cons of saffron for pregnancy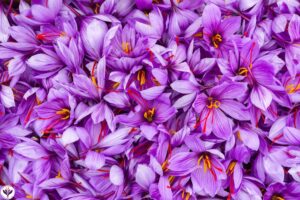 You are aware that in the life of every human being, the limit of the balance must be respected in everything for that person to be able to live a healthy life and take pleasure in it.
One of these aspects is the kinds of meals and beverages a person consumes during the day, particularly for pregnant women!
Now, in the following part, we are going to speak to you about the pros and cons of using saffron during pregnancy:
Pros
1.      It helps to Prevent Changes In the mood
2.      The lowering of the blood pressure
3.      Aids Digestion.
4.      Stops nausea and vomiting in the morning.
5.      Combats Anemia.
6.      Protects against conditions related to the heart.
7.      Facilitates restful sleep.
8.      ‍Fights Allergies.
9.      It's good for getting rid of zits.
10.  Movement of the Baby
Cons
1.       The lips, nose, or eyes are bleeding excessively.
2.       Seeing blood in vomit.
3.       The whole body is experiencing severe numbness.
4.       Unsteadiness and a feeling of fainting might be expected.
5.       Yellowing
6.       It is possible to detect blood in either the pee or the feces.
In the end,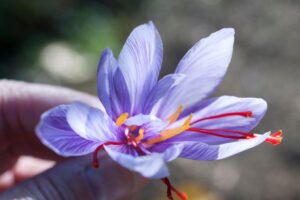 Saffron is one of the unique and costly plants planted and developed in certain nations such as Iran and given to the entire globe, as discussed throughout this page.
In this particular piece of writing, the primary emphasis was placed on the pros and cons of taking this specific plant, saffron, for pregnancy. The overarching goal was to conclude, "Is saffron good for pregnancy?
We compiled the saffron's positive and negative attributes into two distinct categories to accomplish this goal.
Check out our article on the How To Use Saffron For Glowing Skin؟
However, before beginning any new medicine or herbal treatment, you must consult your obstetrician and gynecologist about the available alternatives.
You may safely use some drinks, spices, and herbs while pregnant; however, this can depend on how much you use and when.
We hope that you have found the "Is saffron good for pregnancy?" post to be enjoyable and helpful, and we thank you in advance for taking the time to do so.
In the comments area, we would appreciate it if you could share feedback about "Is saffron good for pregnancy? Whether it be positive or negative, as well as any experience you may have had in the relevant subject.