In this article, you will read about the  saffron for skin lightening
Saffron due to its high amounts of antioxidants helps to treat dark spots on the skin and makes the skin lighter and whiter.
Saffron has always been known as a useful and fragrant food and color and a high quality spice that has become one of the most expensive spices on the market.
Saffron tea is useful for treating many diseases such as asthma, cough, dry skin, nervous attack, flatulence, heartburn and insomnia. But you should know that saffron is a useful substance for purifying and cleansing the skin. It contains antibacterial substances that are very useful for treating acne.
Saffron also brightens the skin and plays an effective role in eliminating impurities and impurities on the skin. The only drawback to saffron is its high price, but fortunately a very small amount is enough to reap its many benefits.
The strange taste and golden red color of this spice is from saffron flowers. In making 28 grams of saffron spices, 4,500 saffron flowers are used.
Saffron has extraordinary healing properties and is used in a variety of therapeutic methods. This spice can relieve menopausal cramps and help men with fertility problems.
Saffron can also reduce depression and stress and is known as a sexual enhancer. Applying it topically to the skin can help solve problems such as dry skin, paleness and acne.
Saffron has significant cosmetic properties and the strength of the properties of this plant is so great that even in the Bible, saffron is considered one of the superior plants.
Saffron has many properties, including the following:
-Glow the skin
-Treatment and prevention of pimples and acne
-Slow down the process of premature aging
-Eliminate scars and pimples
-Eliminate skin tanning
-Relieve skin problems
-Coloring the skin
saffron for skin
Benefits of saffron mask for skin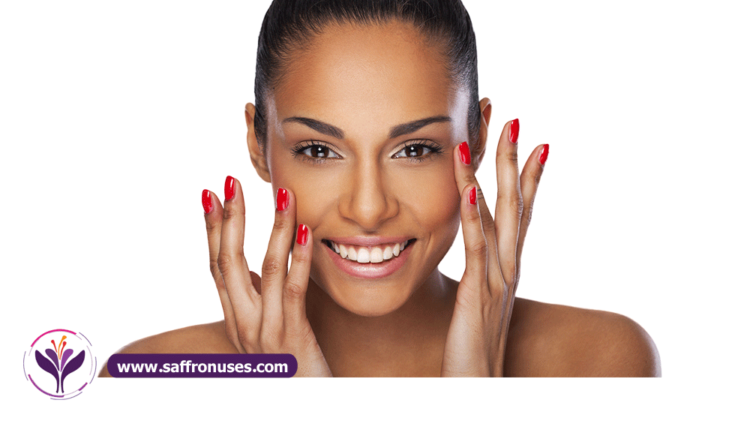 A high-quality seasoning that has become one of the most expensive spices on the market. You have probably heard of the countless properties of saffron in the treatment of various diseases. In winter, sometimes people's skin becomes dry and dark. You can use saffron combination to restore the softness and beauty of your skin. Saffron face mask is a natural and effective way to care for the skin. This mask is ready in just a few minutes and its preparation is simple and easy. This mask cools and refreshes the skin.
Check out our article on the Tips And Tricks For Storing Saffron
use saffron for skin lightening
What does saffron do
1)saffron for Skin lightener
Pour a few strands of saffron in some milk until the color of the milk changes color and the properties of saffron enter the milk. After the milk changes color, add some white sandalwood powder. Apply this mask on your face and neck. Wait 15 to 20 minutes and then rinse. Repeated use of this mask helps to lighten the skin.
2)saffron for Skin brightener
In winter, sometimes people's skin becomes dry and dark. You can use a combination of saffron and honey to restore the softness and beauty of your skin. Add a few strands of saffron to a spoonful of honey. Combine them and apply on face. Wash your skin after 15 to 20 minutes. Repeat this mask once a day for 2 weeks.
The hydrating and healing properties of honey and saffron improve blood circulation in the skin and restore radiance to the skin.
3)Eliminate the darkness caused by sunburn
In summer, many people like to tan their skin and think that it will make them beautiful. If you have been in the sun for a long time or have tanned, soak some saffron in high-fat milk overnight. After this time, apply it to the tanned skin with your finger. This combination effectively eliminates the effect of sunburn and also restores radiance to the skin. This crack makes you more beautiful or have more radiant skin, so be sure to use it.
4)saffron for Skin rejuvenation
If you also prefer natural cleansers to chemical ones, and you are tired of the cosmetics or many masks available in the market and you are looking for a home solution, be sure to combine saffron with rose until the color of saffron with rose Combine and cover the whole face with a piece of cotton. After 10 to 15 minutes, wash face with lukewarm water. This delays the aging of the skin and maintains the feeling of youth in the skin.
The most important question is how to use saffron to whitening the skin? As you can see, I have mentioned different methods that you can use at home.
This valuable spice can help brighten and brighten your facial skin. The use of yogurt (rich in zinc and B vitamins), which is a natural lactic acid and combined with honey rich in enzymes, allows saffron to penetrate well into the skin and be more effective.
Honey is a natural solution and keeps the skin supple and smooth. The only obstacle that may exist is the very high price of this spice.
Saffron mask makes the skin clear and radiant and prevents it from drying out.
ingredients:
One-half cup of yogurt, preferably organic (I prefer goat or sheep yogurt)
Three tablespoons of honey
A tablespoon of saffron (try to use saffron whose quality has been proven and you are sure of its authenticity).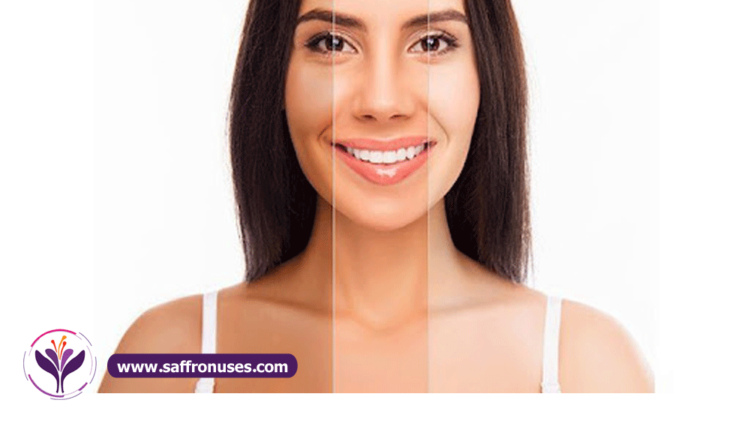 Preparation method:
1- It is very easy to combine yogurt, honey and saffron together to get a pale golden color.
2- Then apply it on the skin of the face. Leave on for 15 to 20 minutes and then wash your face with lukewarm water.
3- Another method is to add a few drops of lemon, a pinch of sugar and a few drops of coconut oil.
4- Combine all the above with the mask that was taught and let it stay for 10 minutes before rubbing on the skin of the face.
Important note:
When using natural masks, be sure not to be allergic to their ingredients.
It is best to try a small amount on a small area of your skin before using the mask to make sure.
Concluding Remarks
Saffron has many properties and is very useful for the skin. There are various masks on the market, but if you care about your skin and you have a question about how to lighten your facial skin, it is better to use saffron on the saffron uses. I tried with a mask. I hope you have enjoyed the content and if this article was useful to you, please leave a comment.
Check out our article on the Why Is Saffron So Expensive? Part 1