We know rock candy as a sweetener for tea and herbal infusions. This edible substance is made from sugar or syrup. Old-fashioned rock candies had limited flavor and color diversity; the most popular type was saffron rock candy. Rock candies are used to sweeten tea and herbal infusions and have other applications. This article will discuss how saffron rock candy is made, the types of rock candy, and their uses.
Rock candy is crystallized through a physical reaction that depends on time and temperature. It ultimately takes the form of transparent and fascinating crystals. The nature of this edible substance is warm, and it is very effective in treating cold temperament.
How to make saffron rock candy at home?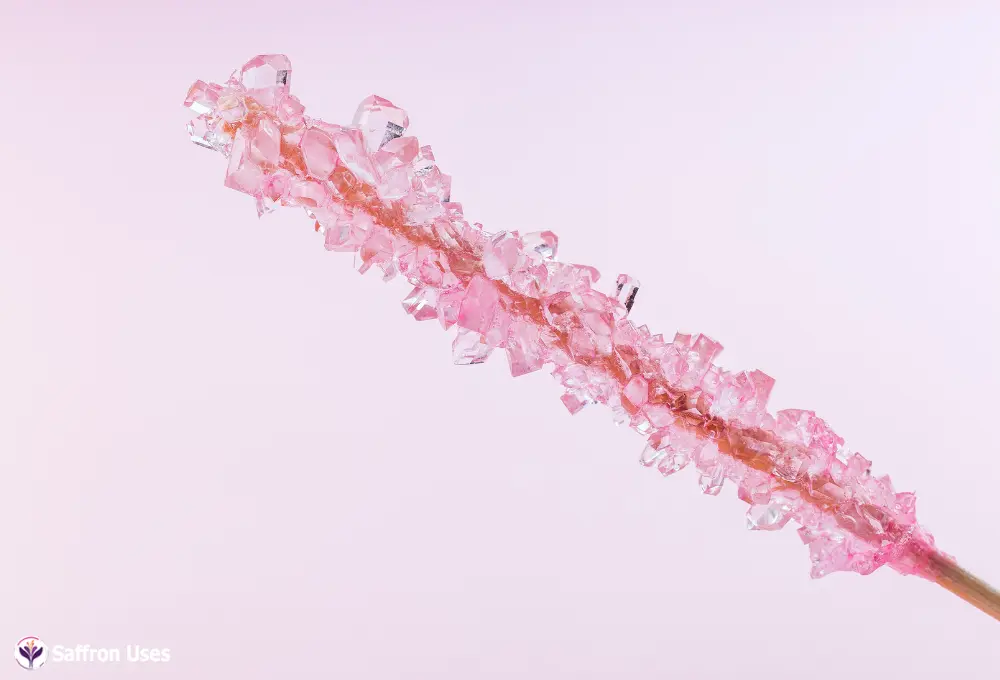 You can easily make saffron rock candy, as well as other flavored rock candies, at home. To prepare rock candy, you need a suitable amount of sugar, water, and saffron. You can also prepare a thread or a stick according to your taste.
Once you have prepared the necessary ingredients, pour the sugar, almost one and a half times the amount of water, into a saucepan and add some water. Heat the mixture. Pour the saffron-infused tea into the solution as well. Let the sugar dissolve in boiling water and create a syrup. Remove the mixture from heat and place the thread or stick in the mixture. Place the container in a steady location and let it cool down.
Over time, as the temperature of the syrup decreases, transparent crystal rock candy will form. After the crystals fully form, you can remove the stick or thread around the rock candy from the container.
What are the different types of saffron rock candy?
String Rock Candy: The rock candy crystals form around a string of this type.
Wooden Rock Candy: This type is mostly packaged in fancy boxes for gifting or used in events. The rock candy crystals form around a plastic or wooden stick in this type. However, the wooden type is more hygienic than the plastic one since wooden sticks can be disinfected by boiling in water, which is impossible with plastic sticks.
Teeth Rock Candy: This type is suitable for home use and in tea. These rock candy crystals break easily with minimal pressure and dissolve quickly in tea.
Mixed Rock Candy: This type of rock candy is in a block shape, created due to the high concentration of sugar syrup in the jar or container. Its irregular and non-uniform appearance makes it suitable for bulk sales.
Curtain Rock Candy: It is very thin and delicate. It has no difference in quality or color. The only difference from other types of rock candy is that it forms on the container, unlike mixed rock candy.
Powder Rock Candy: This type comprises smaller rock candy crystals and larger sugar granules, making it highly soluble.
What are the uses of saffron rock candy?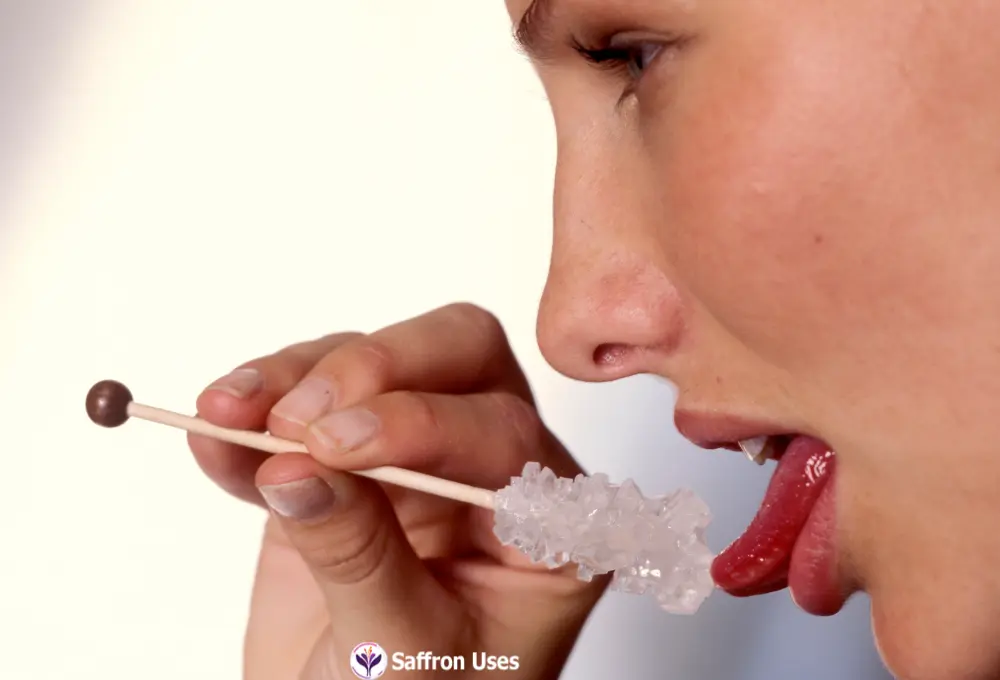 Saffron rock candy has been a part of Iranian New Year's Seven S's table and wedding ceremonies for a long time. Nowadays, with the popularity of herbal teas, saffron rock candy is used more than ever as a sweetener for teas and herbal infusions.
Today, saffron rock candy is produced in various flavors, such as cinnamon, lemon, plum, and cumin. It is often used as a gift due to its elegant packaging and beautiful appearance. Additionally, many people prefer saffron rock candy over sugar because it tastes better, and uses it as a daily sweetener between meals.
What are the benefits of saffron rock candy?
Treatment of diarrhea: Saffron rock candy has anti-diarrheal and anti-flatulent properties. Its warm nature is effective in treating diarrhea caused by coldness. To treat diarrhea, saffron rock candy can be used as hot rock candy or burnt and turned into a dark coffee-like color. The resulting substance is a strong and immediate treatment for diarrhea.
Treatment of dry cough: Saffron rock candy can help relieve prolonged dry cough and chest pain caused by it.
Memory booster: Dissolve some saffron rock candy in hot water and drink it to strengthen memory. This mixture can be a suitable treatment for memory weakness in older age.
Reduction of stomach pain: Saffron rock candy is an effective treatment for reducing pain caused by gastric and digestive contractions. Also, saffron rock candy can help reduce lower back pain and cramps during menstruation. Additionally, saffron rock candy helps digest food faster and easier and prevents sourness. It can also be used to treat people suffering from intestinal parasites.
Treatment and elimination of phlegm: Saffron rock candy is a very effective treatment for phlegm. Use it regularly and consistently with tea, boiling water, or as hot rock candy. Treating phlegm with saffron rock candy can prevent gout, asthma, and tremors. Sargol saffron is the best choice for making saffron rock candy.
Treatment of frequent urination: If you suffer from bladder weakness and frequent urination, place a piece of saffron rock candy in your mouth and let it dissolve by chewing. Drinking hot beverages containing saffron rock candy is also an excellent treatment for frequent urination.
Key points to consider when buying saffron rock candy:
It is better to buy wooden saffron rock candy. Saffron rock candies with plastic sticks release toxins when in contact with hot water, which can cause cancer.
Avoid buying bulk saffron rock candy. These rock candies are exposed to constant dust and pollution. Also, illegal chemical colors and additives are used in bulk varieties instead of authentic saffron roots.
Buy large crystal saffron rock candy. The larger and clearer the crystal, the better the quality of the sugar used in making it, rather than harmful sweeteners.