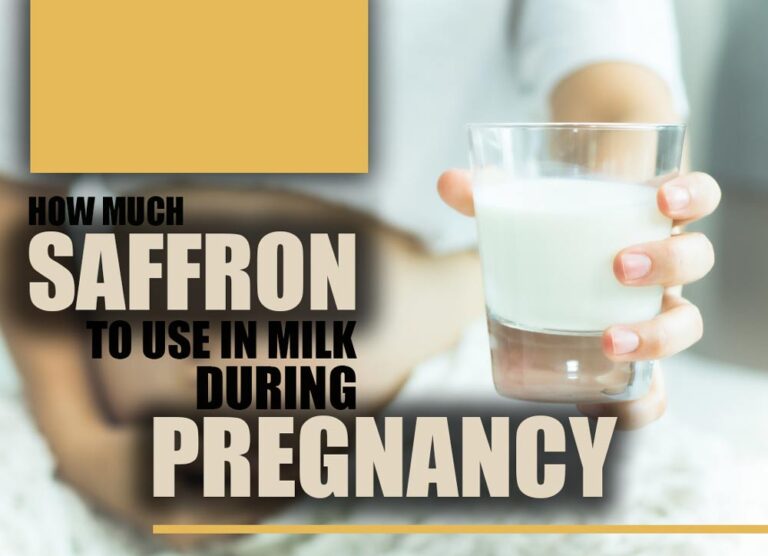 Saffron or Kesar, also known as saffron, Kung, has its significance in traditional spices to the degree that it is even used as a medicinal supplement; it is the king of herbs, as we have discussed in multiple other articles/saffron during pregnancy.
Saffron is often recommended to expectant mothers by women who have already gone through the experience.
This is because saffron has various therapeutic advantages, including improving a pregnant woman's digestion and boosting her appetite. Saffron may also be ingested by drinking milk, which is intriguing.
However, similar to the intake of any other plant, saffron eating should be done in moderation.
Check out our article on the Is Saffron (Kesar) Safe During Pregnancy?
We have decided to examine the "How much saffron to use in milk during pregnancy?"
topic in more depth as a result of the significance of the problem and the close connection it has with the mother and the unborn child. Continue to be with us.
To further acquaint ourselves with saffron (Kesar), below is a condensed explanation of what it is:
What is Kesar (saffron)?
Saffron is a spice that humans have used for a very long period. Throughout that time, it has been regarded as having a vital role. In certain circles, it is also referred to by the term kesar.
The remarkable benefits of this spice have been known for a long time, but they have been obscured by the fact that it is used in cuisine to bring flavor and a beautiful color to the meal.
Because of its many positive effects on one's health, even expectant mothers were recommended to use this spice.
As mentioned above, everyone can consume saffron with other things, such as milk. An essential question comes to the mind of pregnant women: "How much saffron to use in milk during pregnancy?"
Check out our article on the Saffron & Pregnancy (PROS & CONS)
There is no need for concern in this part; follow us:
At first, it is best to learn that it is saffron. Is it safe to consume saffron during the whole nine months of pregnancy?
Saffron & pregnancy (All Nine Months)
Let's take a broader approach to this topic. We may say that saffron can be ingested safely during pregnancy, given that it is done in an appropriate quantity, just like other foods and beverages.
According to research and studies, exposure to excessive quantities of saffron may result in uterine contractions, thrombocytopenia, bleeding, and even a miscarriage in some instances.
In addition, it is highly recommended that pregnant women refrain from taking saffron during the first trimester when the uterus has not yet established its stable condition.
According to the findings of many thorough examinations, women who labor in saffron fields have a significantly greater chance of miscarrying or terminating a pregnancy in the early stages of the pregnancy.
In light of this, limiting how much saffron you consume during the first few months of your pregnancy is essential.
Ok, we understand that saffron generally has not caused any danger to a pregnant woman. Still, our question is: Is it dangerous to consume saffron milk when pregnant and how much saffron to use in milk during pregnancy?
How much saffron to use in milk during pregnancy?
Let's begin by addressing the most common inquiry in conversations with expectant mothers regarding saffron: how much saffron to use in milk during pregnancy?
It is typically safe and suitable to consume saffron in any form during pregnancy, including drinking saffron milk or incorporating saffron into any other aspect of one's diet.
On the other hand, taking in an excessive amount of saffron when pregnant can result in several unwelcome complications; therefore, it is essential to modify the amount you consume.
According to research dating back to the ancient world, consuming 125 milligrams of saffron twice a day may benefit pregnant women.
Saffron milk is one of how saffron that may be used during pregnancy, and its preparation can be broken down into two simple steps:
That should be added to heated milk after a few strands have been stirred in.
Wait five to ten minutes before swallowing the combination once it has settled.
In a broad sense, clinical investigations have shown that amounts of pure saffron up to 1.5 grams per day are safe to consume. People risk experiencing harmful consequences if they consume more than five grams of pure saffron daily.
Conclusion
It should be no surprise that drinking saffron milk during pregnancy has several health advantages.
However, pregnant women should follow the required amount to prevent difficulties and health concerns. For this reason, they need to see their doctor before ingesting anything, particularly saffron milk.
The critical takeaway from this discussion, which you should not forget, is that if you notice any symptoms, you should immediately stop taking saffron and make an appointment with the most qualified expert in the pregnancy branch.
In general, it is recommended to discuss any changes to your diet with your doctor to prevent any issues or pain that are not essential.
Do we hope that the information about how much saffron to use in milk during pregnancy is?
We told you that it benefits you, and you could keep your intake of saffron milk in check while still appreciating the beverage's flavor.
We would appreciate it very much if you could tell us about your experiences with how much saffron to use in milk during pregnancy that we share with our readers.