In this article, you will read about the benefits of eating saffron for the skin
The skin is one of the most important organs and organs of our body that we must strive to maintain its health and vitality. Our skin is an important part of our social identity and consuming saffron is a good and effective tool to maintain healthy skin.
It is mostly famous for the minerals in it. One of these minerals is potassium, which plays an important role in cell formation and repair. On the other hand, this plant with a lot of vitamins and antioxidants, has many benefits for maintaining and health of your skin. It also has anti-inflammatory properties for the skin,
The main factor that can lead to the loss of skin health is our wrong lifestyle and habits today. These incorrect habits can lead to the formation of increasing free radicals, and these free radicals also lead to the destruction of cellular structure and tissue destruction.
Saffron is a medicinal plant that can contain large amounts of antioxidants to neutralize free radicals and prevent skin damage due to these free radicals. The main properties of saffron for the skin are also based on the same antioxidants of saffron.
The properties of saffron for the skin are not limited to its direct effects on the skin, and the effects that saffron has on the body, especially the liver, are very useful and effective for the skin.
Saffron can be a good alternative to chemical cleaners. Combine the saffron with the rose and let the saffron transfer its color well to the rose and dip your whole face in the mixture with a cotton ball.
Another useful and effective formula is what some women  do; They mix saffron with their lukewarm bath water, which prevents skin aging for a longer period of time.
Skin radiance with the properties of saffron
One of the properties of saffron for the skin is to maintain the radiance of the skin, and as you have seen, in winter, sometimes our skin becomes dry and dark, which you can solve this problem with the following combination;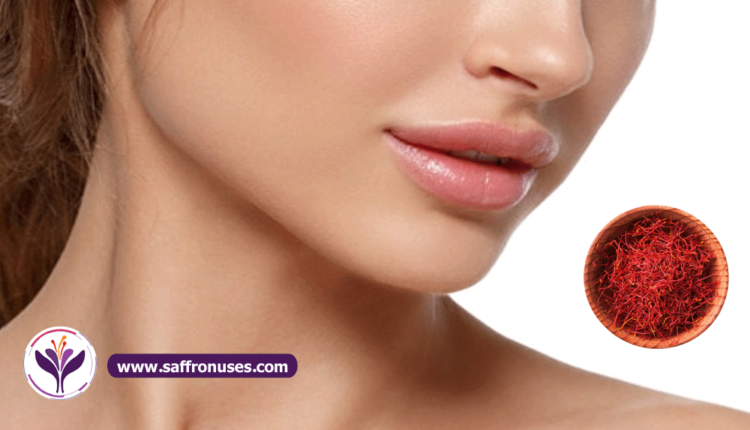 Saffron along with honey can restore the softness and radiance of the skin to its original state. Combine saffron noodles with a spoonful of honey and apply this mixture to your skin.
Honey, which is a good moisturizer for the skin, and saffron, which have healing properties, are also useful for strengthening blood circulation in the skin, which in turn increases its radiance.
It is a useful substance for purifying and cleansing the skin. It has antibacterial substances for treating acne. Many people insist on claiming that this plant is effective in brightening the skin. This plant eliminates impurities and impurities. It plays an effective role on the skin. The only drawback that can be taken from it is its high price, but fortunately a very small amount of it is enough to benefit from its countless benefits.
The benefits of saffron for the skin have been able to clarify the effective role of this plant in providing the necessary minerals for collagen production.
Can be eating saffron to lighten skin?
Experts in traditional medicine have concluded that the immune system also has a special effect on the clarity and beauty of the skin. In many cases, fatty liver or liver failure can cause your face to look dark.
It is interesting to know that it is not only using a mask that can have an effect on lightening the skin. By eating saffron, you can achieve clear and pimple-free skin.
Check out our article on the How Is Saffron Harvested?
Properties of saffron on the skin with saffron masks
Combining this plant with other ingredients such as rose, honey, yogurt, strawberries, flour, sandalwood and milk has been able to show another natural and effective way to properly care for the skin. Fortunately, it does not take much time to prepare saffron masks. In fact, the amazing effect of this plant on the skin of the face becomes apparent when these masks are used gradually.
Saffron mask, the most natural way to treat skin infections
Skin infections are something that women are afraid of and do not like to have in their skin. Ensuring the perfect health of the skin with chemicals has encouraged people to spend their money to buy them. But do not forget that natural foods such as saffron can ensure the complete health of your skin. Saffron selenium helps your skin use the nutrients your body needs to build cells and rejuvenate your skin surface.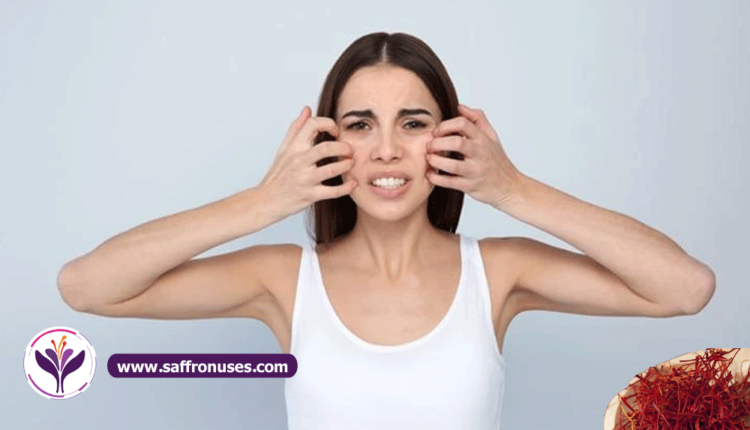 Having energy for the skin on hard days may seem a bit impossible, but drinking this amazing plant can energize your face. You know very well that if you start an energetic day, life will have a special meaning.
When your stress is low, there are no pimples or blackheads. Mood disorders, anxiety and depression are factors that help reduce the number of pimples. To escape the effects of depression, consume saffron and enjoy your diet. There is nothing better than a healthy life to help improve the health of your skin. A healthy diet that includes this plant is essential for rejuvenating your skin. Do not underestimate this red gold and drink it safely.
Skin rejuvenation with different saffron skin to offer saffron uses:
To have radiant skin, massage a mixture of saffron and honey on your skin.
This will lighten, hydrate and soften your skin and keep your skin fresh.
Hydration of the skin with saffron and honey mask is possible.
Saffron and honey mask is useful for circulating blood circulation in all parts of the skin.
The radiance of the skin is very easy with the use of saffron and honey masks.
Another combination to brighten the skin includes raw milk, saffron roots and wood sandalwood powder.
Also, combining raw milk with saffron helps maintain the natural softness of your skin.
As we said, saffron is a skin lightening agent. Do not believe in all the properties of saffron for the skin. Saffron is the only edible and medicinal plant that exists in nature and its properties have made it known as the most expensive red gold. It is enough to add only a few strands of saffron or ground saffron in milk.
Concluding remarks
Thanks for reading this article, I hope it has a fresh and refreshed skin